Chapter 18

Write your own R functions, part 1
18.1

What and why?

My goal here is to reveal the process a long-time useR employs for writing functions. I also want to illustrate why the process is the way it is. Merely looking at the finished product, e.g. source code for R packages, can be extremely deceiving. Reality is generally much uglier … but more interesting!

Why are we covering this now, smack in the middle of data aggregation? Powerful machines like dplyr, purrr, and the built-in "apply" family of functions, are ready and waiting to apply your purpose-built functions to various bits of your data. If you can express your analytical wishes in a function, these tools will give you great power.
18.3

Max - min

Say you've got a numeric vector, and you want to compute the difference between its max and min. lifeExp or pop or gdpPercap are great examples of a typical input. You can imagine wanting to get this statistic after we slice up the Gapminder data by year, country, continent, or combinations thereof.
18.4

Get something that works

First, develop some working code for interactive use, using a representative input. I'll use Gapminder's life expectancy variable.

R functions that will be useful: min(), max(), range(). (Read their documentation: here and here)

Internalize this "answer" because our informal testing relies on you noticing departures from this.
18.4.1

Skateboard >> perfectly formed rear-view mirror

This image widely attributed to the Spotify development team conveys an important point.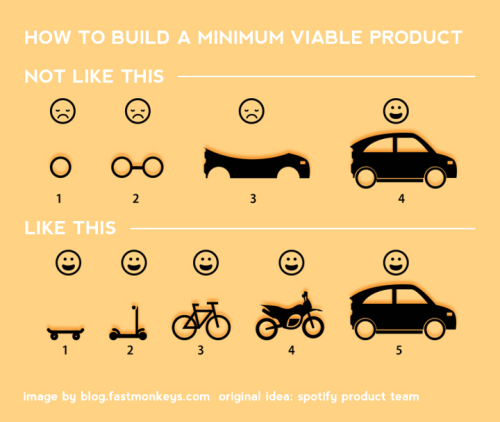 Build that skateboard before you build the car or some fancy car part. A limited-but-functioning thing is very useful. It also keeps the spirits high.
This is related to the valuable Telescope Rule:
It is faster to make a four-inch mirror then a six-inch mirror than to make a six-inch mirror.
18.5

Turn the working interactive code into a function

Add NO new functionality! Just write your very first R function.

Check that you're getting the same answer as you did with your interactive code. Test it eyeball-o-metrically at this point.
18.7

Check the validity of arguments

For functions that will be used again – which is not all of them! – it is good to check the validity of arguments. This implements a rule from the Unix philosophy:
Rule of Repair: When you must fail, fail noisily and as soon as possible.
18.7.1

stop if not

stopifnot() is the entry level solution. I use it here to make sure the input x is a numeric vector.

And we see that it catches all of the self-inflicted damage we would like to avoid.
18.7.2

if then stop

stopifnot() doesn't provide a very good error message. The next approach is very widely used. Put your validity check inside an if() statement and call stop() yourself, with a custom error message, in the body.

In addition to a gratuitous apology, the error raised also contains two more pieces of helpful info:
Which function threw the error.
Hints on how to fix things: expected class of input vs actual class.
If it is easy to do so, I highly recommend this template: "you gave me THIS, but I need THAT".
The tidyverse style guide has a very useful chapter on how to construct error messages.
18.8

Wrap-up and what's next?

Here's the function we've written so far:

What we've accomplished:
We've written our first function.
We are checking the validity of its input, argument x.
We've done a good amount of informal testing.
Where to next? In part 2 we generalize this function to take differences in other quantiles and learn how to set default values for arguments.
18.9

Resources

Packages for runtime assertions (the last 3 seem to be under more active development than assertthat):

Hadley Wickham's book Advanced R (2015):